Iowa WordPress Maintenance
---
Plugin Updates | Theme Updates
Email Deliverability Issues
Backups & Migrations
Is your small business website built on WordPress and in need of some maintenance? It's not uncommon for me to find small business owners with WordPress websites that have gone neglected for years. While the sites might seem to function properly on the surface, they are often plagued by severely outdated plugins, themes, and core updates that could result in waking up one day to a non-working website. Failure to fix these issues can be detrimental and introduce security vulnerabilities.
---
Does your WordPress Health Check look like this?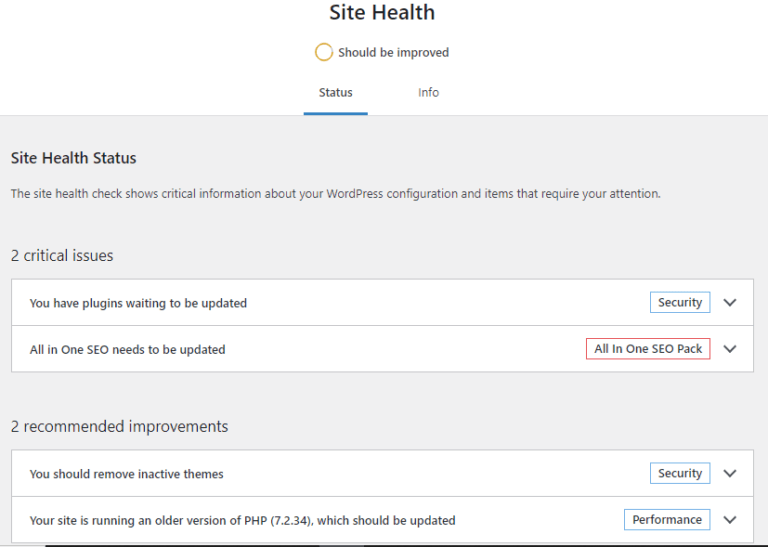 WordPress plugin and theme authors typically release updates once a month if not more frequently! These updates are released to fix glitches, security vulnerabilities, and add features along with compatibility concerns for major WordPress core updates that occur a handful of times each year.
Not only do these updates pose a risk to the stability and security of your site, but they also often play a role in search engine optimization – a healthy site is a better ranking site and these vulnerabilities could lead to issues that ultimately hurt your rank. For instance, if a small business owner is unaware their site is unresponsive due to an issue and fails to have it fixed in a timely manner, Google may lower the reputation of the site based on a perception of frequent abandonment.
Maintaining your website is important as maintaining any other aspect of your business! That's why I also offer monthly plans in addition to on-demand service.
Your
WordPress
website
monitored
daily.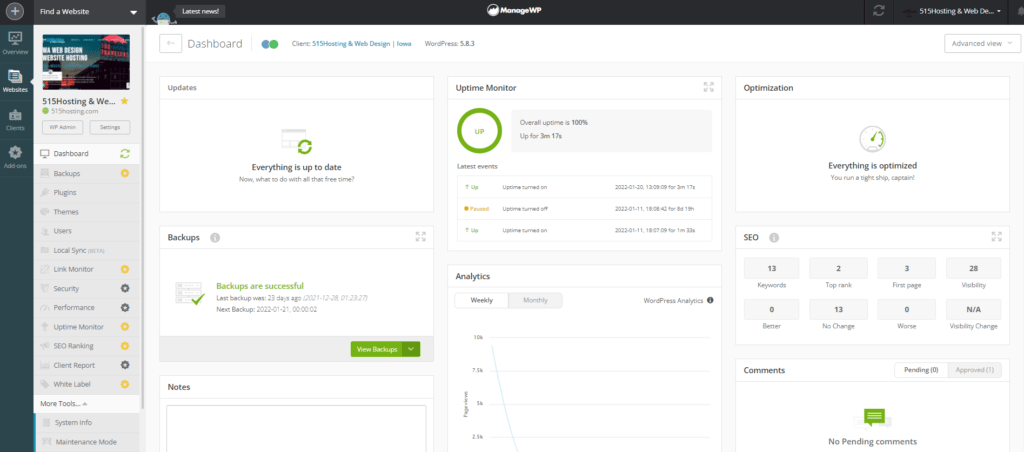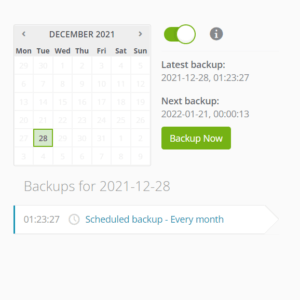 Remote Backups
An important aspect of a safe update is using remote backups in the event your server or website becomes unreachable. If you had to restore your backup in the event of an error during an update, could you? Customized backup plans ensure you always have a recent version available even if your site is down.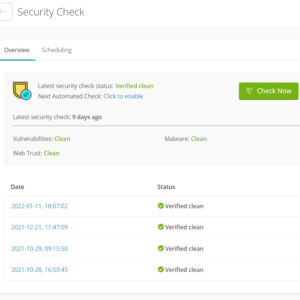 Security Scans
From malware to black lists, your website is at the mercy of malicious actors every single day. With security scans, we can have ensure your website is healthy. Your website can be scanned automatically and you'll be provided a report of potential vulnerabilities so you can take action.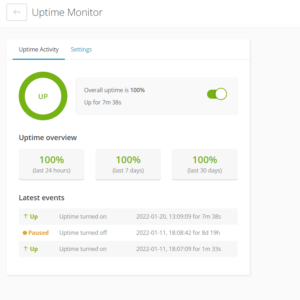 Uptime Monitoring
Never miss a beat when your website goes offline. There are numerous reasons why your website might go offline and if you're not constantly reviewing your site you may not even realize it. With Uptime Monitoring, you have a 24/7 set of eyes on your website to notify you if it goes offline so you can react.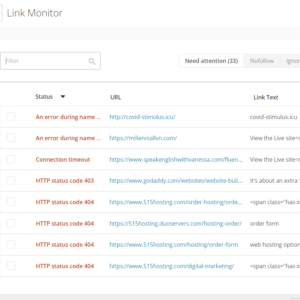 Broken Link Monitoring
The internet is dynamic and overtime websites change that can lead to dead end links. It's important to make sure the pages of your website don't get orphaned and that links on your website end up to helpful sources. I can review your WordPress pages and check for broken links, adjustments to content, and more.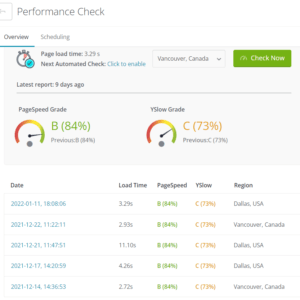 Performance Checks
Is your website up to speed? Literally! With performance checks, your websites performance can be checked manually and automatically to ensure it's available to visitors in a reasonable period of time. If something causes your sites performance to dip, you'll know when it happens.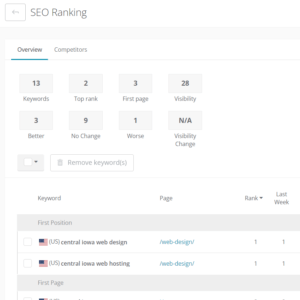 SEO Monitoring
You can monitor a variety of keywords to see how they're performing in search so you can tailor your SEO plan accordingly. Is your website gaining traction in results or is there some work you need to do? Without important data like where your pages rank, it's hard to know where to start first.
Sent in a convenient report!
Each month, you'll receive a report specific to your website regarding the prior month's work, so you never miss a beat!
Never miss a beat.
WordPress Updates
You don't need to update your website…until you need to update your website.
Keeping your website up to date is extremely important. Though a website can appear to function correctly on the surface, failure to maintain a WordPress website can post security vulnerabilities for your users, files, databases, and other website components. In some cases, a website that works without incident for years unmaintained can suddenly and without warning become broken and unavailable to visitors on the web.
In addition to monitoring your WordPress website, it's important to keep your website's plugins, themes and core WordPress files up to date to ensure they are as secure as possible and compatible with changing versions of WordPress and PHP.
In conjunction with a monthly plan, you can have access to safe updates. Safe updates work by launching a backup of your website immediately prior to updating. *A software checks for any errors and if one arises that results in critical errors, a restoration can be immediately requested. It's recommended eCommerce shops and membership sites use a staging environment for testing updates. This may result in necessitation of a staging site.
*There are limitations to updating your WordPress website and some incompatibilities may not be immediately prevalent on a front end check. Additionally, premium themes or plugins with license keys may require additional fees for renewal. Some plugins and themes may not be compatible with new versions of WordPress and may no longer have their authors actively maintaining them/
Has your site been hacked?
I offer WordPress hack repair with a 60 day money back guarantee.
How many backups will I have?
Complimentary Plans: All clients of 515Hosting receive complimentary monthly backups as long as we can connect to the site.
Basic Plans: Depending upon the frequency of updates, you can receive backups as often as hourly. Typically, weekly backups are scheduled.
Bespoke Plans: Your site receives backups via the Basic Plan, but also is backed up to a secondary cloud location using UpDraft Plus.
Backups are stored for up to 90 days for all plans.
How often is the site updated?
Complimentary Plans: Your site is updated manually by request at the current labor rates per hour.
Basic Plans: Your site is updated once per month.
Bespoke Plans: Your site is updated at a more frequent rate as recommended.
Do you monitor broken links?
Complimentary Plans: Link monitoring is by request.
Basic Plans: Your site will have up to 10,000 links monitored to ensure they work.
Bespoke Plans: Your site receives up to 10,000 links monitored, plus reviews of your links on Google Search Console.
How often is my site scanned for malware?
Complimentary Plans: You must request a malware scan.
Basic & Bespoke Plans: Your site is scanned daily with reports sent monthly.
Complimentary Plans: Your site speed can be tested on request.
Basic & Bespoke Plans: You will receive a performance scan of your website each and every day delivered monthly.
Do you monitor website uptime?
Complimentary Plans: Website uptime is not included.
Basic & Bespoke Plans: Your website will be pinged every 5 minutes to check if it is online. If it is not, we can schedule notifications to help you get back online as fast as possible. Not all downtime is related to your website and may be the result of your web host. That's why it is important to choose a reliable hosting service like 515Hosting offers that has 99.9% uptime.
What type of SEO monitoring can I receive?
Complimentary Plans: You will need to request a manual review of your SEO and keywords.
Basic Plans: We can monitor up to 100 keywords each week and see how they are changing in rank.
Bespoke Plans: In addition to monitoring 100 keywords, we can take a closer look a priority key phrases, review Google Search Console and use advanced SEO tools to improve your website's rankings.
How do I verify work is being performed?
Complimentary Plans: After requesting manual work, a complimentary report is provided.
Basic Plans: You'll receive a report around the first of each month with the prior month's services laid out in a PDF with detailed information.
Bespoke Plans: In addition to the Basic Plan report, you'll receive additional emails regarding extra information and quantifying results.
Just need one time help?
We can work to customize WordPress help to match your needs, from one time set up of automated backups to a spontaneous review of WordPress issues, I offer on demand WordPress webmaster services.