515Hosting vs GoDaddy
A Tale of Preying On Inexperience
Here's how 515Hosting could save a typical GoDaddy customer over $300 per year for a relatively basic website.
Meet James.
James is a plumber.
He knows a lot about toilets, but web sites…not so much.
James, ever a do-it-yourself and encouraged by a GoDaddy commercial, decides to take it upon himself to build a small business website.
He heads over to GoDaddy.com and starts adding products to his cart that GoDaddy recommends. His office manager and he both need an email address, so he adds those to the cart when GoDaddy prompts him for adding email addresses at a couple of bucks per account. He isn't entirely sure what website security entails, but GoDaddy says it's important for small businesses with paying customers, so he pops that in the cart, too.
Unsure of what the different hosting options even mean, he just settles on the Economy Plan since he only needs one site. Luckily, he doesn't see the hosting plans labeled "Small Business" which would largely be overkill for him. If he did, he'd likely be coerced into signing up for one of those since he is, of course, a small business.
Suddenly, his final price pops up and after all the add-ons, upsells, and recommendations his final bill is ready – and if it doesn't seem bad the first year, next year will be quite the surprise when it over doubles.
Little does James know, though, even the introduction price is largely overpriced.
1st Year Bill – $165.63
Renewal – $376.50
Continue reading to learn more about how 515Hosting can save GoDaddy customers money or head on over to the web hosting plans page to see current prices and features.
Now, let's meet Leonard.
Leonard is also a plumber.
Like James, Leonard is also a bit of a DIY guy.
Instead of using GoDaddy, Leonard decides to research local options and came across 515Hosting's web page. While 515Hosting also offers web design services, he learns the hosting plans offer website builders.
He heads over to the web hosting page and chooses a domain.
Instead of being inundated with options and upsells, he's presented with a much smaller selection of affordable hosting options, from which he chooses an entry level plan.
He pays his hosting bill and he's already saved over 50% compared to GoDaddy's initial invoice, plus he won't find himself with a huge jump in cost next year at renewal!
1st Year Bill – $56.87
Renewal – $56.87
How can I offer such discounted pricing?
It's important to note that GoDaddy spends an enormous sum of money on advertising aside from all the money they collect to pay for those executive yachts.
Their marketing campaigns have made them a household name when it comes to web hosting, so it's obvious that when someone needs a website that's one of the first names that comes to mind.
If you're not a mechanic, you probably rely on local mechanics to repair your vehicle. When you bring your car to them, you entrust they'll know what they're doing, offer you a fair price for their services, and that they won't sell you on repairs or maintenance items you don't need.
That's not the case with GoDaddy.
Their marketing position has allowed them to cast a wide net on unsuspecting small business owners that want to get online. Those individuals entrust GoDaddy will know what they're doing, offer them a fair price for services, and won't sell them on products they don't need.
Instead, GoDaddy overwhelms small business owners with hosting options and add-ons with vague descriptions that add a sense of urgency and importance.
Take SSL Certificates, for instance. GoDaddy suggests an SSL Certificate for small businesses to protect customers and they aren't wrong that it's almost a necessity. However, what GoDaddy has done is eliminated the ability to use free SSL Certificates via LetsEncrypt easily on their servers and those that do successfully install them can't even use LetsEncrypt's automated renewal service.
Of course, James the plumber wouldn't know many web hosts now offer those for free, let alone what an SSL certificate even is. James is a smart guy, he's just not experienced and knowledgeable on web hosting, so he's a prime target for GoDaddy to prey on.
There are a lot of things that GoDaddy charges for that are considered standard in the industry as being offered for free. In fact, things like emails addons that GoDaddy punches down the throat of unknowing small business owners that want to have a custom email address are also offered for free directly within GoDaddy within the CPanel.
Let's take a look at all the different ways 515Hosting cuts down the costs.
A server is a server.
Many web hosting companies, including 515Hosting, name some of their hosting plans "Small Business" plans. As most customers are not knowledgeable in the technical aspects of servers, the names of plans are generally designed to guide customers toward plans that might work well for their needs.
A servers purpose is simply to host the files and databases of a website and serve them to visitors, but servers can't differentiate between what is a small business web site and what is a personal web site.
Small businesses are often willing and able to pay a premium for better resource allocation, access to dedicated IP addresses, higher email storage capacities, and additional websites they might use for their brand, but that doesn't mean they necessitate those things. It's a bit disingenuous to suggest those aren't features someone running a personal blog might not need or appreciate as well. In fact, it's entirely possible a personal blog could require higher resource allocations and see larger traffic than your typical small-town restaurant website and attempting to encourage main street businesses into one size fits all business plans isn't accurately matching their needs – and often their budgets.
And yet a lot of mom and pop shops in small towns throughout Iowa that barely breach a population over 10,000 are paying for web hosting plans capable of supporting several hundred thousands of visitors per day for no other reason than being labeled small business hosting.
That's why 515Hosting keeps the economy web hosting plans limited to two options, both of which include unlimited storage, bandwidth, and MySQL databases. For the most part, the difference between the two boils down to whether you need more than one website, but both work great for a typical WordPress website that sees routine traffic.
GoDaddy on the other hand overwhelms customers with options and has an entire tier of plans labeled Small Business, which often encourages small business owners to purchase them for no other reason than some expectation that their feature set is necessary for small business – they're not.
Customers at 515Hosting save money because I keep the plans in line with the needs of my customers and don't upsell customers into hosting plans well beyond their needs for the sake of an extra dollar.
For instance, I've found that many town square-businesses in my area were using Gmail addresses or local telecom addresses and not even using the email features they were paying for. I've also found other businesses were using 3rd party email platforms. In those cases, where the web site was merely a static, informational site serving a limited number of visits, using an economy hosting package is more than capable and is a perfect example of matching a web hosting plan to the needs of a customer.
GoDaddy Standard Shared Hosting Plans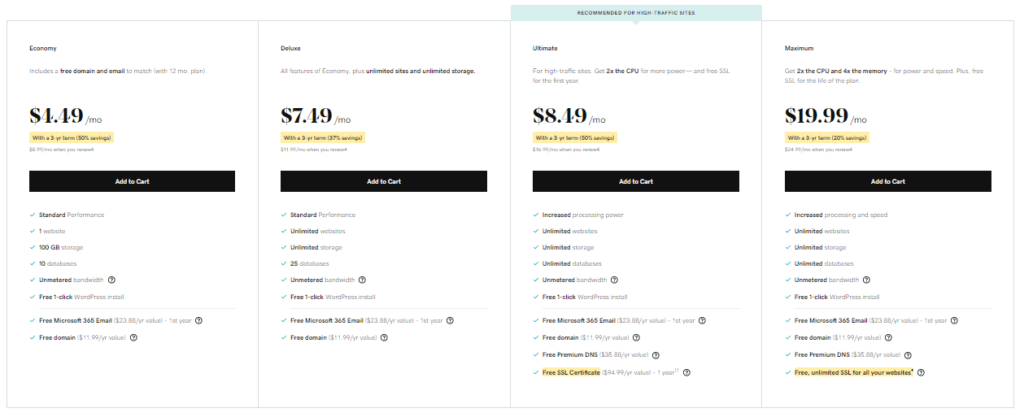 GoDaddy Business Shared Hosting Plans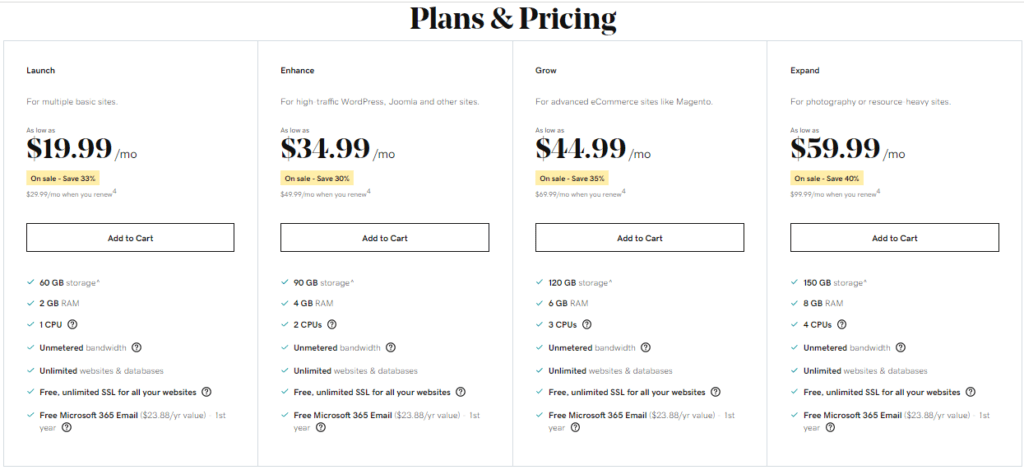 You can't even really tell why business plan hosting is so much more expensive in these screenshots. Aside from the technical resources not even mentioned in the basic hosting packages, most of the features of business plan hosting are identical.
There's more to learn about how I save customers money on web hosting, but if you're convinced head on over to view web hosting plan options.
I use a free Control Panel
Nearly all web hosting providers use CPanel for the web server control panel. In order to use CPanel, web hosts must pay a licensing agreement to CPanel LLC for each and every account that CPanel is installed for. While this cost is relatively minor at scale, it's certainly an added charge that gets passed on (and marked up) before it gets its available to use.
Instead of using CPanel, customers of 515Hosting are provided with a Hepsia Control Panel. While it looks vastly different from CPanel, it retains all the necessary features a webmaster needs to manage the files, databases, domains, and other aspects of their web hosting products and websites.
Best of all, Hepsia doesn't have any licensing fees that get passed on to customers. While the interface may be unfamiliar to users coming from CPanel, by eliminating the licensing charges other web hosts face, 515Hosting can provide a cost-cutting solution! Hepsia was developed in-house by LiquidNet, the web hosting company I've partnered with.
Hepsia Control Panel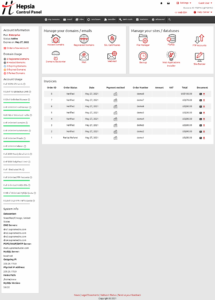 CPanel Control Panel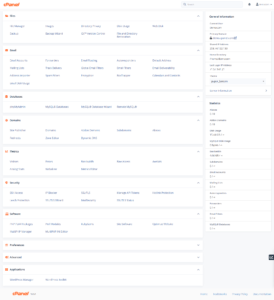 I Partner With Leading Datacenters Including
The Steadfast Datacenter
Chicago, IL, US
Speaking of partnerships…
Another way that I'm able to offer discounted pricing to customers is through delegated access. By partnering with a global web hosting provider that offers all the technological benefits of other leading web hosts, my customers have access to data centers across the globe in addition to a 24/7 support team. However, I can also offer my customers direct support via delegated access.
Where other web hosting companies require thousands of employees at call centers to handle incoming customer support requests, 515Hosting as a reseller essentially becomes an extension of their support team network. This means, customers can bring their questions to me directly and I can handle support requests in the customer's web hosting dashboard directly. Imagine you're a business in Newton, Iowa and you're having trouble with your website. Instead of calling up a foreign call center and getting a random customer service rep, you can simply tell me what you're issue is and I'll handle it directly either by myself or by reaching out to tech support on your behalf. And if there's a sense of urgency and I can't respond right away, the 24/7 support team is always available to you as well by email, phone, or support tickets within your web hosting account.
With millions of customers and websites on their systems, web hosts like GoDaddy are inundated with support requests that range from simple problems to complex issues…and sometimes customers that just want someone to chat with. This bogs down the support system and strains the ability of major web hosts to help customers effectively.
By using 515Hosting, not only do you have the opportunity to have your support requests handled directly with me instead of random support personnel at a distant call center, but that delegation cuts out a vast amount of overhead companies like GoDaddy have from a customer support aspect. Plus, since many of my web hosting customers are also web design customers, my technical know-how ensures the websites are working from the get-go, which eliminates a large portion of the support ticket needs other web hosts see that aren't even related to web hosting.

An Actually Free Drag and Drop Website Builder
GoDaddy's website builder sucks you in with a free one-month trial. They don't even tell you what the renewal charges will be until your credit card is getting charged each month and if you don't pay the bill, you lose your website and all the hard work you put in making it. It's about an extra $7 or more per month – surprise!
---
The Drag and Drop website builder offered for 515Hosting customers is completely free with your web hosting account! Unlike other similar software, like Wix or the software on GoDaddy that can add-on upwards of $20/month per site, the Kopage Website Builder is included on all web hosting plans.
I leverage alternative technologies..
Email is pretty basic functionality of most web hosts, but many will offer the free SMTP email options within CPanel and still push paid email options. Of course, these web hosts get a financial kickback by driving customers to paid email hosting options like Office 365. Interestingly enough, not only do the web hosts drive additional revenues through email hosting affiliations, but they actually end up lessening the strain on their servers because – get this – as soon as you purchase an Office 365 account, you're actually paying to have your emails hosted elsewhere.
So you could end up paying for web hosting just to have a custom email address and still be persuaded to pay for an email account that makes your web hosting plan irrelevant.
For most web hosts, you can login to your web hosting dashboard, add an email account, and be presented with username and password credentials to set up your email software on your computer for free because email hosting is an integrated part of your domain name and web hosting.
What happens when you purchase an Office 365 plan is that your email accounts are no longer integrated with your web hosting, but are actually hosted by Microsoft. While there are some features that people might enjoy, like simpler integration with Microsoft Office products like Calendar and Contacts, customers could also get those features by buying them directly from Microsoft instead of paying for the increased price GoDaddy charges.
Issues like email deliverability that Office 365 claims to also help cure can often be fixed merely by using a dedicated IP address, which is also part of 515Hosting's Small Business Plan.
Unfortunately, most customers don't realize that emails are an included part of web hosting and domain name ownership, so when GoDaddy or another web host shows a pop-up to add email accounts at $1 to $5, they simply add them to the cart.
The same is true for SSL Certificates.
The purpose of an SSL Certificate is to create an encrypted connection between a web server and a visitor's web browser. When viewing a website on a public network, such as at a coffee shop, it's entirely possible another user on that network could intercept the connection for a middle man attack and see exactly what you're sending and receiving – such as plain text passwords and credit card numbers. An encrypted connection would show these same interceptions a random string of characters instead.
Obviously, for small businesses running e-commerce shops, collecting form data, or that has password input areas, having that protection is integral to customer privacy and security. In fact, Google and other search engines tend to prefer sites that use SSL Certificates in search results.
As a result, many web hosts, including 515Hosting, started offering free SSL Certificates using free software as a service called LetsEncrypt. At 515Hosting, adding an SSL Certificate is as simple as visiting the SSL page and selecting the domain name you'd like to add an SSL Certificate to. The same can be said for many other popular web hosts.
But at GoDaddy, they don't have LetsEncrypt installed on their web hosting servers.
Instead, they prompt customers at the importance of SSL with fear-mongering and then charge them $100 a year to add the service. It's a really unfortunate way to do business that often leaves customers trapped out of fear of losing their site or the difficulty of moving elsewhere.
Ready to switch to more affordable web hosting? Click the link to see how you could save money or keep reading to see a case study of an actual customer.
I Saved One Customer Over $900 A Year
The Case Study
The results aren't even hypothetical.
This is an actual customer of mine that I did some web design work for. Their annual hosting bill from GoDaddy was over $1,000 a year.
Their business consists of 2 domain names each with their own website and a handful of email addresses.
Their total traffic to their site each month is maybe a couple thousand visitors. One of the largest blogs I manage gets over 20,000 visitors per month and uses a content delivery network on top of web hosting and that site costs just around $100 a year to keep online.
So, let's break down the costs and see how this customer got to this point of an $1100+ web hosting bill.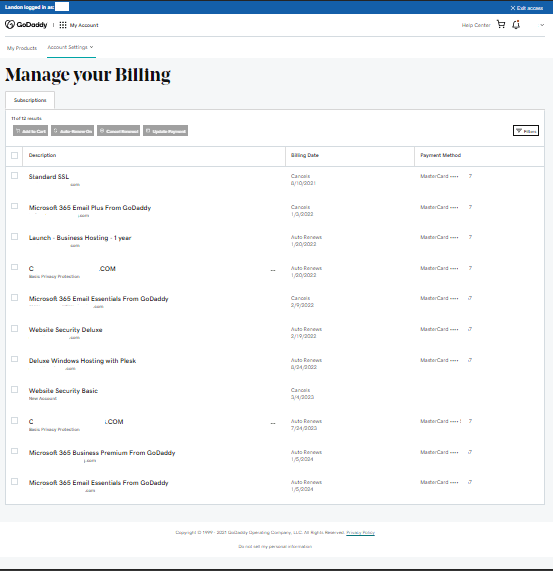 (1) SSL Certificate
$95/year
(1) Office 365 Email Plus
$2/month
(3) Office 365 Email Essentials
$18/month
Business Hosting
$20/month
(2) Domain Names
$40/year
(1) Website Security Deluxe
$35/month
Windows Plesk Hosting
$8/month
Grand Total: $1131
per year
I was absolutely blown away that we were able to save $1000 each year. Our business does over $2M in sales. Bills like these end up getting absorbed without much thought, but $1,000 is no small chunk of change. I intended to save money doing it myself, but I could have paid a web design agency at this point and probably ended up with a better website, too!

Charles H.
How did 515Hosting do it?
Right off the top, we eliminated an entire web hosting plan, because you can host multiple websites on one hosting account. We were also able to downgrade to an economy hosting plan because the amount of traffic their site received didn't necessitate their existing plan. They had enough web hosting resources to power 1100% more visitors in a month than they received each year. We also cut out the SSL Certificate fees, since they are free at 515Hosting and instead of paying GoDaddy for website security at $25 a month, we used a plugin for WordPress called WordFence to provide site-level security. I run one site with over 20,000 visitors per month and have never needed to pay for server-level website security scans.
Total Hosting Bill at 515Hosting: $175/year
How hard is it for your small business to make the switch?
First, you'll need a backup of your website.
You'll want to make a backup of your websites files and databases. This is probably the step most people get fearful of and tend to just stick with their existing host (and overpay) than deal with the hassle and uncertainty of migrating their website to a different host.
Have no fear though, I'd be happy to help!
If you have some technical know-how, the easiest method is to install a WordPress backup plugin such as UpDraft Plus – it's free!
Then make a full site backup including the database and all uploads, plugins, themes, and other data. Download that backup and then install a clean version of WordPress on the new host, upload the backup files, and restore. As long as the domain name is the same, it should be pretty quick and easy! And if you'd like a new domain name, 515Hosting provides simple WordPress transfer services.
With your backup ready, there's two ways to change web hosts. You can either transfer the domain registration to the new host or simply point your registered domain A Records to the new host. I'd be happy to provide either of these services complimentary to anyone looking to move long term to a 515Hosting plan.
Method 1: Transfer your domain registration.
Login to your GoDaddy or other web hosting account. You should find a page in your domain management area that has an option to transfer your domain. You'll be provided with a special domain transfer authentication code.
When you create an account at 515Hosting, you'll be prompted to register a domain name. Simply choose your existing domain and select the transfer option. You'll be asked to provide the domain authentication code provided to you from the past host.
That's all there is to it.
A few days will pass and it the process will be handled for you.

Method 2: Change A Records but retain current domain registrar.
You can also register a domain name anywhere and continue to user their domain registration options and prices. It's possible you might find a better price on your domain name elsewhere, in which case, you can register a domain name at one web host and use the web hosting services of another provider. You'll find a page in your domain management area titled DNS Management and you simply want to point the IP address of your domain name to resolve to the one provided by 515Hosting that correlates to the server your website is hosted on.

Need some help? I'd be happy to offer complimentary website transfer services for customers migrating from another web host to 515Hosting.